[Clarion Inn & Conference Center of Shepherdstown, WV]
(233 Lowe Dr, Shepherdstown, WV 25443), will be our venue again for 1d4Con 2020.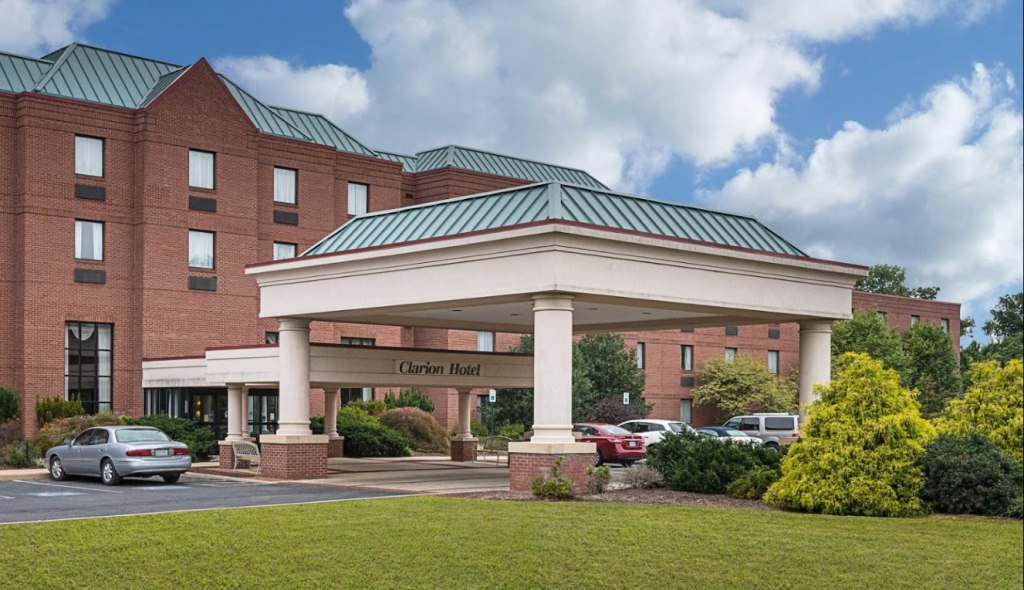 This Clarion Inn & Conference Center (the main venue) offers several meeting rooms and board rooms across mostly one main floor, a ballroom that can be sectioned off into 3 rooms to help reduce noise, two lounge rooms only one floor up with easy stairs and elevator access from the main lobby, beautiful guest rooms at discounted rates (suites are at regular rates), and friendly staff to help the convention run smoothly.

The hotel is located about 5 miles off of WV Route 9 at the Kearneysville/Shepherdstown exit (Kearneysville Pike, WV-480 N), with its own private parking lots (One side is for government parking due to the high volume of government functions they run throughout the work week. It is situated just outside of downtown Shepherdstown, with several gas stations, fast food, and sit-in restaurants with many more options only a quarter mile or so away away.
Guest rooms will be discounted to $104/night for regular and handicap options for Single King and Double Queen beds for Friday and Saturday nights. To make a reservation, please call the Clarion Inn at (304) 876-7000 and tell them that you are looking for the "1d4Con Block". Suites and Jr. Suites can be purchased at normal rates if preferred.
Reservations must be made by September 30th, 2020!
The Special Rates pertains to Friday and Saturday nights only!
---
[Map of Venue Meeting Rooms]
Rooms and uses:
Pre-function Area outside of the Rockefeller Ballrooms – Registration, Tickets, Bake Sale Tables, and Charity Raffles

Rockefeller Ballroom, Salon A – D&D Adventurers League
Rockefeller Ballroom, Salon B – Miniatures and Board Games

Rockefeller Ballroom, Salon C – Vendor Room
Byrd Meeting Room – Pathfinder/Starfinder Societies

Jefferson Board Room – Miscellaneous Use
Berkeley Board Room – Miscellaneous Use/LARPs
Morgan Room – Cthuhlu Games

Potomac Lounge (2nd Floor above Lobby) – Mixed RPGs (Adult 18+ rated)

Blue Ridge Lounge (2nd Floor above Lobby) – Mixed RPGs (Everyone to Teen 13+ rated)

On-site Food Options:
Tuscany Dining Area – Open for Breakfast and Lunch, which must be purchased.
Rumsey Tavern – Open throughout the day, open for dinner. Serves Food and Alcohol***
*** – Alcohol is permitted in the gaming rooms, as long and our Rules and Regulations are followed.
---
[Map of Venue and Surrounding Area]
---
[Information for Shepherdstown, WV and surrounding area]